BlackTrax system is a tracking solution that enables precise 3D & 6D position tracking of any desired object, person, or surface in real‐time.
BlackTrax proves, that there is no limit to imagination!
It gives the user the ability to define zones in the virtual space that will trigger actions in the real space.
BlackTrax system uses infrared beacons and cameras to precisely define the position and movement of an object. Then, that information is sent to automation controllers – lighting, media servers, video projections, cameras – in a genuine real-time tracking environment! Real-time tracking protocol allows BlackTrax to integrate with stage automation system.
RUCHOMY MAPPING 360°
BlackTrax system helps with the preparation of the most demanding lighting and multimedia shows and allows you to achieve effects that have never been seen before, for example: 360-degree mapping on moving objects or dynamic interaction of the actor with an image. The performers on stage (actors, dancers, musicians, speakers) become a part of the BlackTrax system. The final effect depends on the performers' conscious movement and the ability to cooperate with the BlackTrax system.
NOT ONLY LARGE PRODUCTIONS
The system is mobile, flexible and easy to use, so it is great for smaller productions as well.
TSE Group is the only company in Poland that uses BlackTrax for its own productions and rents it for events. We bought the system from Prolight Polska Sp. z o.o.
PLEASE FEEL FREE TO CONTACT US IF YOU NEED ANY FURTHER INFORMATION.
CALL OR E-MAIL US! LET US STIMULATE YOUR IMAGINATION.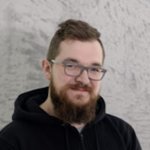 Our BLACKTRAX specialist
Adam Kuznowicz tel. 603 137 061,
e-mail: adam.kuznowicz@tse.com.pl
Visit our rental website. We provide reliable equipment and professional service. Systematic investments in new equipment allow us to be the leader in terms of technology, as well as the amount of the equipment we own.  Check out our rental offer.